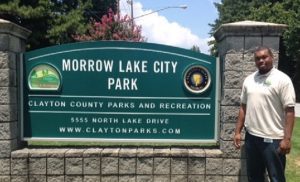 I'm Lloyd Gay, married to Annissia and the father of 2 boys ( Trayvon and Trenton). I actually grew up between Miami and Orlando, Florida but most of my childhood was spent in Riverdale where I attended both Riverdale Middle and Riverdale High Schools. I began coaching in 2010 when my oldest son started playing flag football at Rum Creek Park in Jonesboro. Wanting to spend time with both my sons I have went on to coach flag football, football, basketball , and baseball. I am a product of Clayton County Parks and Recreation and I want to instill those same values that I received into the youth of today. I'm striving to make a great program even better by growing the park, provoking change, and to bring a stronger sense of pride to our Community.
What should the top priorities of a youth athlete be?
First and foremost education should be the number one priority of any young athlete followed by having fun and learning the fundamentals of the sport you are playing. Every athlete has that one coach who inspires them to give it their all, constantly reminding them to be great in all areas of their lives and to strive to unlock their full potential.
What are some Team Building Activities that you do?
Team building activities that we do at Morrow – Lake City are opening day ceremonies, cookouts, pep rallies, trunk of treat, and community gatherings. These Community events create a great team environment so that the athletes and their families can have fun, learn, and grow together.
What is your Program Philosophy?
To have a fun and safe environment for families to enjoy a great day at the park. As we coaches are role models for our future leaders, I think it is important to teach the game of life as well as the fundamentals of sports to our young athletes.
What is your favorite youth sports memory?
Helping to coach my kid's teams, every year there are so many great memories and milestones crossed.
How do you motivate your participants (kids, coaches, parents)?
By understanding my community and letting them know we're all on the same team. As well as staying engaged with all the participants and their families this makes for a fun learning environment. It also motivates the families to build strong ties to their community.
How can you have a productive coaching staff environment?
The most important thing is to make sure that all the coaches are on the same page. Good team building exercises, as well as time to develop relationships outside of coaching. The most successful teams have developed great team chemistry.
How would you describe a typical week of practice during the season? How are game days different?
Practices are 1 to 2 hours a night and are more instructional and laid back. I walk around the park monitoring the practices. Game days are a little more intense, I walk the park monitoring the games and helping to maintain a safe and fun environment for all everyone in the park.
What is your goal for your park?
To create memories that you can treasure for a lifetime. As well as creating a place with a strong pride in their community.