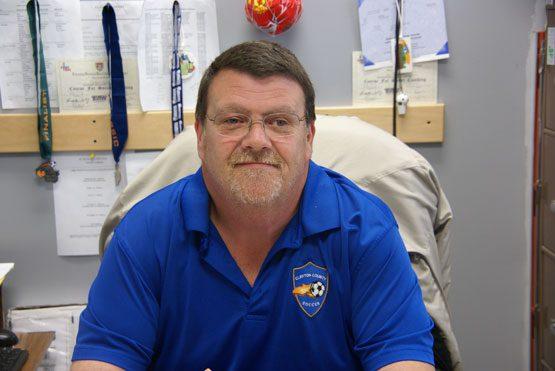 My name is John Mondy and I am a single Father of 4 children, 3 of which are grown and youngest is 15 and still lives at home with me. I lived in Clayton County for 47 years until I moved to Fayette County in 2010. I played baseball growing up at Morrow-Lake City Park when it first opened until I was about 12 years old, at that time I changed sports and started playing soccer for Clayton County Parks and Recreation. I also played soccer for Morrow High School for 4 years, graduating from Morrow in 1981. My kids played baseball and softball at Morrow- Lake City Park and I sat on the Board there before the County took over the Park operations, I was then offered a job as an Athletic Aide and I held that position for 8 years before being promoted to Athletic Coordinator for the Soccer Program in 2010.
What should the top priorities of a youth athlete be?
Having fun, making new friends and learning the game.
What are some Team Building Activities that you do?
We hold Coaches meetings from time to time and at the end I will have open discussion so that the Coaches can talk among themselves and share experiences they have with their teams, it is a good way of building a sense of family and comradery among the Coaches.
What is your Program Philosophy?
Teach the game properly, sportsmanship, develop skills and a love for the game of Soccer.
What is your favorite youth sports memory?
Being a Coach and seeing the young men I coached develop and play at the High School and College levels.
How do you motivate your participants (kids, coaches, parents)?
I try to create a family atmosphere that breeds a fun environment for the parents and kids.
How can you have a productive coaching staff environment?
By developing a trust among the coaches that they can rely on each other for advice without worrying about who wins.
How would you describe a typical week of practice during the season? How are game days different?
Practice days are Monday through Thursday and basically consist of the teams being here from 6:00 PM to 8:00 PM, I use this opportunity to talk with parents and see that there are no problems. I also have practice with the 2 teams that I coach so it can be hectic at times. Game days usually begin by arriving at the park an hour before the games start to set the fields up and make sure all the goals are properly placed and anchored down so that we have safe playing conditions. Once the games have begun my Assistant and I walk around the park and monitor the games to make sure everything is running smoothly, once the games are over for the day we take up all the flags and remove the small goals the we set out for the games. Saturdays(game day) usually run very smoothly because we have very good people involved with our program.
What is your goal for your park?
To grow the program into one that is known for fair play and skilled teams.
Click here to view a video about Clayton County Soccer!