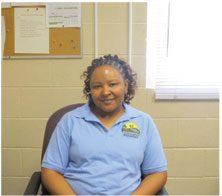 Name: Sequellia Logan
Hometown: Anniston, AL
Graduated from Auburn University (WAR EAGLE)
In high school I played basketball and ran track along with drum line in the band as well as various other clubs and activities throughout school.
What should the top priorities of a youth athlete be?
The top priority of a youth athlete should always be learning the fundamentals of the game, making or meeting new and old friends, participating and most of all having fun!
What are some Team Building Activities that you do?
To me you must be able to effectively gather the participants in a setting that allows them to interact with others. For example having a park gathering or barbecue in which all participants engage in fun activities and games. This allows the kids to be engaged with others they might not otherwise see and learn names of the other kids. These types of activities make the park come together like one big happy family. It also helps players and groups develop effective communication and problem solving skills.
What is your Program Philosophy?
I want the kids in my program to be able to set their own personal goals and be able to develop the work ethics necessary for them to achieve those goals. For the athletes to build up their fundamental skill set and learn how to effectively apply those skills in a game setting but also know how to have FUN while playing.
What is your favorite youth sports memory?
My most memorable moment was when I played volleyball in the Jr. Olympics and my team won. It was our first year playing in a setting of that magnitude and we were ecstatic.
How do you motivate your participants (kids, coaches, parents)?
I motivate my coaches by telling them what I expect out of them as a youth coach and how they affect our youth and how important it is for them to be positive role models around the kids at all times. I inform them of what to expect from the program and what to expect from me. I motivate the parents in our Pre-Season Parent Orientation Meetings of what they can expect from the program, the coordinator, and the coaches. Lastly, I motivate the kids by telling them what they will learn and how to have fun while participating.
How can you have a productive coaching staff environment?
I set up to have a productive coaching staff environment by providing them the necessary tools that they need to be a successful coach. Making sure that you have like-minded and positive staff members also helps. The coaches are the key to the program and in reaching our youth. Coaching Clinics are an important part of any program and sport.
How would you describe a typical week of practice during the season? How are game days different?
Teams typical practice 3 times a week from 6:15pm-8:15pm. We have two time slots allotted for the teams, 6:15pm-7:15pm and 7:15-8:15pm. Days may vary during the week depending on the sport in season. Game days are different because teams have practiced all week to prepare for game day. It's an exciting time for all parties involved.
What is your goal for your park?
My main goal is to provide quality youth sports program for the Clayton County Community by connecting the community through people, parks, programs and fun.