Clayton County Basketball League
Due to the increase in COVID infections, youth basketball programming will be postponed for a least one week. 
Practices will resume the week of January 10th.  The restrictions of no spectators will remain in effect during practice.
Opening Day for the regular season will be postponed until January 15th.  The existing gameday policy of only two spectators per player will be strictly enforced. 
All originally scheduled games will be played.
All games are scheduled to allow for gym clearance and sanitation between contests.   The Department staff sprays bleachers with the COVID cleaning solution.
Please be advised, masks will be required inside the building and gym. 
Additional updates will be provided via email, text messaging, and on our website.  Please be vigilant to stop the spread of the virus so that we can safely return to play.
Clayton County youth basketball registration for the winter 2021-2022 season will take place online October 1st thru October 31st, while space is available. There will be no in-person registration. Boys and girls ages five through fourteen may participate. The cost is $105 per child. The basketball program provides a reversible uniform, team picture package, and a participation trophy.  Nonresident participants must pay an additional $25.  To register your child, click here.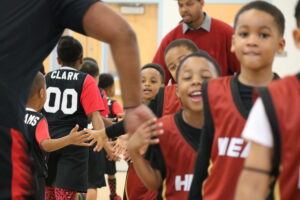 Practices will begin in early December. Kids will practice twice each week.  The specific practice schedule for your child will be determined once registration has closed and the children have been assigned to team rosters. The regular season will open January 8, 2022, with games being played on weekends through March. To have your child join the fun, click here.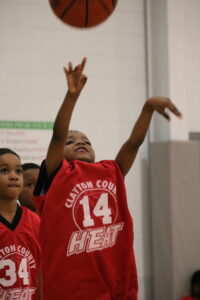 2021-22 Basketball Parent Orientation (Recording of call below)
South Clayton and Jim Huie have size fitting Tuesday, Thursday October 26 & 28 6:00pm-8:00pm, and Saturday October 28 from 10am-12pm at the Softball complex across from South Clayton Recreation Center.
Carl Rhodenizer has size fitting Monday, Tuesday & Thursday November 1,2 & 4 from 6:30pm-8pm At Carl Rhodenizer.
Virginia Gray has size fitting Monday, Tuesday & Thursday November 8, 9 & 11 from 6pm-7:30pm At Virginia Gray.
The basketball program will be facilitated at the South Clayton Recreation Center in Lovejoy, the Virginia Gray Recreation Center in Riverdale, and the Carl Rhodenizer Recreation Center in Rex.  The u6 division will practice and play at the Jim Huie Recreation Center in Jonesboro.  For information on a recreation center near you, call us at 770-473-3800.  All leagues will fill quickly, so early registration is advised.
Here are a few drills the kids can work on to stay sharp while spending time at home.