Clayton County 3v3 Basketball League
The Clayton County Parks & Recreation Department is proud to introduce its inaugural 3v3 basketball league.  We know the kids need a recreational outlet, and physical activity is valuable for their mental and social wellbeing.  However, given the current environmental conditions created by the Coronavirus pandemic, it is important that we adapt our programming to comply with recommendations provided by the Centers for Disease Control and Prevention.  By pivoting to a 3v3 format, we can reduce the amount of people in the facilities and help slow transmission.
If you missed the preseason parent meeting for the 3v3 youth basketball program, the following is a copy of the Zoom recording.
What does this mean for participants?
The new program will not enable us to register as many kids in youth basketball as we have in the past.  Rosters will be limited to four children per team.  All kids, staff, and volunteers will have regular temperature checks upon arrival at the recreation centers.  In an effort to manage contact tracing, teams will only compete with other teams from their gym.  Also, to avoid mass gatherings in the gyms, parents will be restricted from practices, and only two parents per child will be permitted in the building on game days.  Adequate time will be provided between practices and games to allow for facility cleaning and sanitizing.
Who is eligible to play?
Boys and girls ages seven through fourteen are eligible to play in the 3v3 basketball league.  The age control date is December 31, 2020.
How much does it cost?
Registration for the Clayton County 3v3 youth basketball league is $50 per child.  Registration includes a t-shirt, a sling bag, and a water bottle.  No financial aid is available for this program.
When does the season start?
Registration is open now, and will continue through till January 9, 2021.  The teams will begin practicing the week of January 19, and the season will open on Saturday, February 6, 2021.  The teams will play at least six games, and there will be no post-season tournament.

Why 3v3 Basketball?
The game is simplified and easy to learn.
3v3 has fewer kids on the court.  Driving, shooting, and passing is much easier with fewer players. Additionally, the game is more fluid, so there is no need for kids to learn specific positions. Kids can focus on refining fundamentals and mastering knowledge of the game.
It's great for overall development
Since 3v3 basketball does not have real positions, every player must be involved in the game. Kids are better able to develop skills like defense, offense, and spacing. They also learn how to move with and without the ball.  The emphasis is on playing, which is more fun than running drills.
More Touches
3v3 basketball provides more opportunity for each player to handle the ball.  More touches increase confidence and the format teaches kids how to make quick decisions, which is valuable for traditional 5v5 basketball. Also, fewer players on the court means that teams don't have to rely on one strong player for success, and all the kids are able to grow their game.  Kids can't hide in a 3v3 format.  Additionally, when there are fewer players on the court trying to get the ball, more kids get a chance to score, which is also much more fun.
3 vs 3 Basketball is Fast-Paced…and fun!
The up-tempo nature of the game means that kids are constantly moving, which is great for physical conditioning.  The pace of the game improves overall fitness.
Better for Coaches
Teaching basketball in smaller pieces makes it easier for kids to learn different plays, moves, and techniques.  Mastering screens, back cuts, and pick-and-rolls is better with fewer players on the court. Kids are able to focus on how to run plays and develop game IQ and court awareness.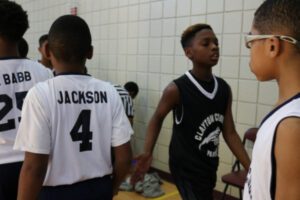 Here are a few drills the kids can work on to stay sharp while spending time at home.