Clayton County Basketball League
Clayton County youth basketball registration for the winter 2022-2023 season will take place online October 1st thru October 31st, while space is available. There will be no in-person registration. Boys and girls ages five through fourteen may participate. The cost is $105 per child. The basketball program provides a reversible uniform, team picture package, and a participation trophy.  Nonresident participants must pay an additional $25.  To register your child, click here.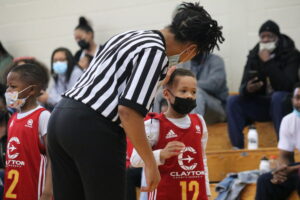 Practices will begin in early December. Kids will practice twice each week.  The specific practice schedule for your child will be determined once registration has closed and the children have been assigned to team rosters. The regular season will open January 7, 2023, with games being played on weekends through March. To have your child join the fun, click here.

The basketball program will be facilitated at the South Clayton Recreation Center in Lovejoy, the Virginia Gray Recreation Center in Riverdale, and the Carl Rhodenizer Recreation Center in Rex.  The u6 division will practice and play at the Jim Huie Recreation Center in Jonesboro.  For information on a recreation center near you, call us at 770-473-3800.  All leagues will fill quickly, so early registration is advised.