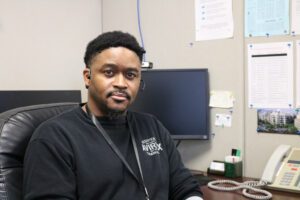 My name is Calvin Johnson. I'm a native New Yorker and an adoptive ATLien. I'm the father of 3 children including a Clayton State University Alumni. So, it is only fitting that I assume a post just off of the University Campus.
What should the top priorities of a youth athlete be?
The top priorities of a youth athlete should be to develop characteristics through sport that will serve them well in their future life endeavors.
What are some Team Building Activities that you do?
My teams tend to forge relationship bonds that transcend sports. We encourage participation in celebrations and bonding activities outside of normal programming. We encourage everyone to share their achievements, milestones and even heartaches. The end of the year celebrations are often so spectacular that others want to join our team for the experience. Some of our participants have held sleep-overs, game nights and trips to theme parks. Our members tend to look at one another as family instead of teammates. Within our work family we interact externally at sporting events, restaurants and other social events.
What is your Program Philosophy?
Our Program Philosophy is to create a stimulating environment that promotes growth and development for our participants.
What is your favorite youth sports memory?
Scoring 4 touchdowns and 2 Two-point conversions in a High School Football game that I dedicated to my recently deceased grandmother in the only game my mother ever attended.
How do you motivate your participants (kids, coaches, parents)?
Initially it was through yelling. But I developed a critical thinking process where we are able to review the intent vs the outcome and form a better decision. Each child is different so it is critical to get input from their parents regarding their personalities before engaging them. My course of action is dependent upon their individual factors. Some children need motivation or encouragement, some need additional instruction but most need a reward system and a method for measuring accountability. Parents are often motivated by the success of the team but those that are exceptionally vocal tend to thrive in a position of prominence where their boisterousness can be utilized.
How can you have a productive coaching staff environment?
Coaches tend to desire to feel appreciated and resourced by the administration. Usually, if a coach feels that their goals and initiatives are supported, they tend to be driven toward success. The key is to strike a balance between our guidelines and their initiatives . Proper training is key to improving their productivity as well as ensuring their comfort and that of our constituents. The most important aspect of all is clear and effective communication.
How would you describe a typical week of practice during the season? How are game days different?
A typical practice week starts with a facility assessment to review usability. The staff makes sure to set up or make adjustments as necessary for the programming before participants arrive. Once participants arrive our focus shifts to time management and external customer service to ensure efficient operations and participant satisfaction. Game days differ in that there can be a huge variance in venue, attendance and external contractors or vendors. The times for set up, cleanup and egress tend to be longer. Gamedays tend to require greater management of time, emotions and expectation.
What is your goal for your park?
My goal is to ensure positive growth and development of longstanding relationships among coaches, players, parents and staff. I hope to revitalize the parks image, revamp the culture and improve our facilities.